Consumers today are increasingly looking for opportunities to make a positive social impact, and education is a critical way to show how they can play an active role. Making an emotional connection is one of the most fundamental aspects to make that happen.
Stepping inside the Bill and Melinda Gates Foundation Discovery Center in Seattle, visitors are not only moved to make a change, but also empowered to take individual action. Opened in 2012, the 15,000 square space illuminates the challenges across the globe and educates on opportunities to help improve lives.
The high-tech visitor center, representing the largest foundation in the United States, is spread out over five rooms. The interactive experience takes visitors on a literal hands-on journey and highlights the human faces of the foundation's work, suggesting that visitors can be one of those faces too.
The heart of the discovery center is a multi-user an interactive floor display. Leveraging data collected by the Gates Foundation, the floor map is controlled by touchscreen tech-enabled tables. Activated by physical pucks visitors can explore issues in great detail, see they're connected, view findings on the map, and understand the partners and progress achieved through the foundation.
Further emphasizing the global realities, a massive "Get Connected" social media touch wall features interactive content from thought-leaders and philanthropists around the world. Individuals can not only explore critical topics like Child Health Issues, Hunger and Nutrition, and Vaccines, but also follow the social conversation over the last 30 days and dial into specific communities of focus.
Life-size interactive panels feature portraits of individuals with personal stories about how the Foundation has improved their lives, as well as stories about the foundation's work from influential leaders including Bill and Melinda Gates.
Inspiring a chain of contribution, visitors are also encouraged to fill out a card for a cause, and share it on social with the hashtag #WePictureChange. If visitors see a card for a cause they like, they're encouraged to take the card as a part of the foundation's "Give an idea, Take an Idea" position. This moment reinforces the space is not meant to be a passive experience, but yet a place of collective change and collaboration.
One of the most inspiring experiences is the Design With the 90%. The exhibition demonstrates how designers can play a role in addressing some of the world's most critical problems. From an affordable prosthetic knee that helps restore natural movement to a mobile phone charger made from scrap bike and radio parts, and a solar-powered hearing aid unit, the twenty-six featured projects demonstrate how design can be a massive vehicle for social impact.
The statistics and statements throughout the space shed light on the grave realities, but it's some of the most subtle design details that lend the most compelling moments and trigger an emotional response. Imagine having to walk three miles for water just for a drink or to wash your hands. A bucket by a public water fountain and footprints across the floor paint a visual picture of what a challenging experience it can be for many to obtain this everyday item. Or what about access to a public or private restroom?  2.5 billion people worldwide don't have that benefit. The center's bathroom doors showcase the various dramatic, yet real conditions that those who are less fortunate encounter as a daily ritual. It's eye opening on every level.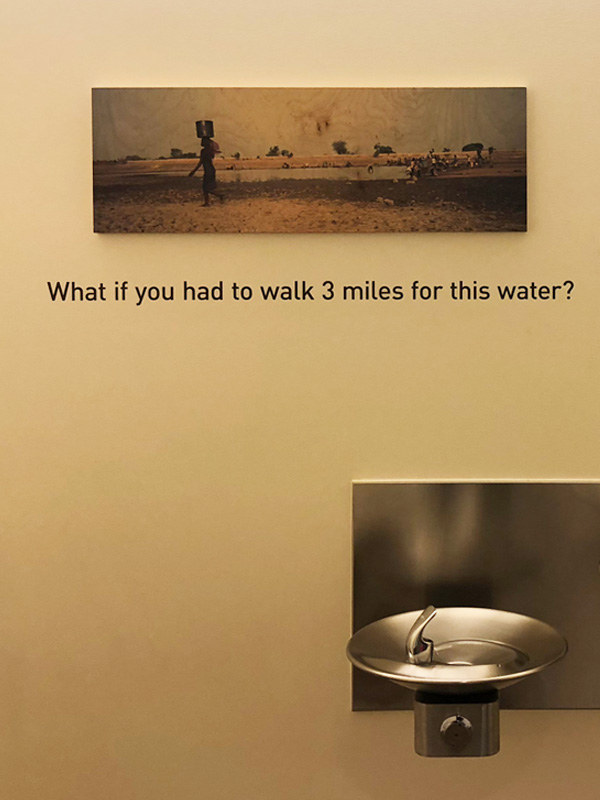 "Every day, we are inspired by the innovative work our grantees and partners lead—work that is providing solutions, hope, and opportunity," said Melinda Gates, co-chair of the Gates Foundation. "Our Visitor Center is a place to showcase this innovation and motivate and inspire people to take action, in their own unique ways, to improve lives."
The Bill and Melinda Gates Discovery Center thoughtfully demonstrates through interactive design that progress is being made and gives reason for others to become "impatient optimists." To create a future of change requires education, and through environmental space design this can be successfully achieved.